Please earnestly pray that YHVH Elohim, the Just, Righteous and Holy Judge of the universe, will bring judgement against and bring to naught the presidential campaigns of these two wicked and murder-promoting evil-doers as well as any other political candidates, politicians, judges or anyone else who agrees with them! Those who support abortion are motivated by the Satanic spirit of murder and are, whether they realize it or not, are worshippers of the ancient Canaanite demon-gods of Baal and Moloch who promoted child sacrifice as a way of gaining the favor of devil. Make no mistake, by their words and actions, these people are devil-worshippers. One cannot be a Christian and also be pro-abortion. Moreover, it's doubtful that one can support a political party that promotes the murder of children and expect to make it into the kingdom of heaven (see 1 For 6:9–10; Rev 21:8; 22:15). If you are a registered Democrat, get out of that party, NOW! If you don't like what I've said, too bad. You're out of synch with the Word of Elohim! Your problem isn't with me, it's with Elohim and his Word.— Natan
Who will rise up for me against the evildoers? or who will stand up for me against the workers of iniquity? (Psalm 94:16)
From the Christian Headlines at https://www.christianheadlines.com/contributors/michael-foust/biden-warren-pledge-to-codify-roe-v-wade-into-federal-law.html?utm_source=Jeeng
Michael Foust | ChristianHeadlines.com Contributor | Wednesday, October 16, 2019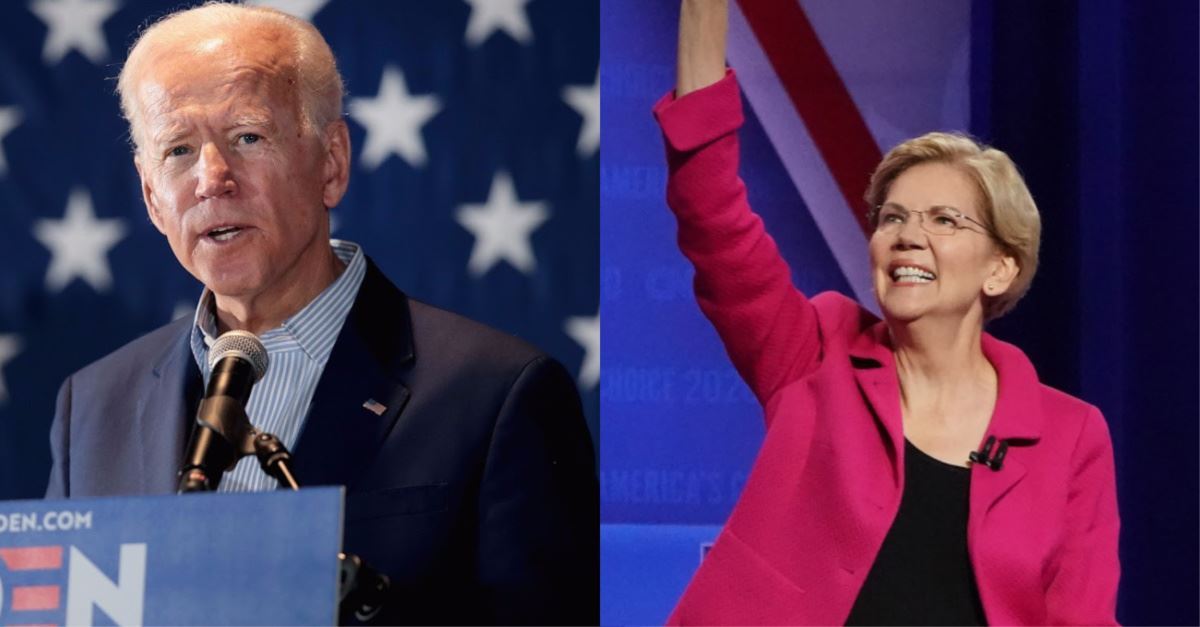 ---
The two leading Democratic presidential candidates pledged during Tuesday's debate to codify legalized abortion into federal law, thus ensuring it remains the law of the land if the Supreme Court overturns Roe v. Wade.
Former Vice President Joe Biden and U.S. Sen. Elizabeth Warren (Mass.) said Congress should pass a law supporting legalizing abortion because Roe is threatened. Roe and its accompanying decisions legalized abortion nationwide through all nine months of pregnancy.
"I would make sure that … we codify Roe v. Wade," Biden said. "The public is already there. Things have changed. … Reproductive rights are a constitutional right. And, in fact, every woman should have that right."
Biden leads Warren in the RealClear Politics nationwide polling average, although Warren has led him in several recent surveys.
"We now have support across this country," Warren said. "Three out of four Americans believe in the rule of Roe v. Wade. When you've got three out of four Americans supporting it, we should be able to get that passed through Congress."
Surveys show the public supports Roe v. Wade (60 percent in the latest Gallup poll) but also backs major restrictions on abortion – restrictions that Roe and its accompanying decisions prohibit. For example, only 25 percent of American adults say abortion should always be legal, according to Gallup, which also has found that most Americans oppose legalized abortion in the second and third trimesters. The country is split evenly on the "pro-life" and "pro-choice" labels.
U.S. Sen. Kamala Harris (Calif.) said during the debate she would nullify state-passed pro-life laws.
"For any state that passes a law that violates the Constitution, and in particular Roe v. Wade, our Department of Justice will review that law to determine if it is compliant with Roe v. Wade and the Constitution, and if it is not, that law will not go into effect," Harris said. "That's called pre-clearance.
"The reality of it is, this is still a fundamental issue of justice for women in America. Women have been given the responsibility to perpetuate the human species," Harris added. "Our bodies were created to do that. And it does not give any other person the right to tell a woman what to do with that body. It is her body. It is her right. It is her decision."
Harris' comments led to pushback by pro-life women on social media.
"A preborn baby is NOT a body part of a woman," wrote Obianuju Ekeocha, a pro-life activist. "Anyone who speaks as if they are should never be allowed anywhere near power of authority."
Again I'll say this for the second time in 24 hours, a preborn baby is NOT a body part of a woman. Anyone who speaks as if they are should never be allowed anywhere near power of authority. 6,6746:01 PM – Oct 15, 2019Twitter Ads info and privacy1,741 people are talking about this
Lila Rose, founder and president of Live Action, also criticized Warren and the other candidates.
"No candidate on the stage tonight acknowledged the scientific reality that a child in the womb IS a human being, and as a human being has the basic right to life," Rose tweeted. "Instead, each one of them supports killing children. Allowing mothers to kill their own children."
No candidate on the stage tonight acknowledged the scientific reality that a child in the womb IS a human being, and as a human being has the basic right to life.

Instead, each one of them supports killing children. Allowing mothers to kill their own children.#DemocraticDebate